Drive Sportswear has an assortment of apparel and headgear readily available for customization and ordering. We offer a wide variety of beanies with micro fleece lining, toques, hats, FlexFit caps, snapback trucker caps, construction approved hard hats and youth caps. Furthermore, our apparel product line includes: dress shirts, hoodies, pullovers, ¼ zip hoodies, light spring jackets, waterproof insulated winter jackets, polos and short sleeve and long sleeve shirts that are available in any color. Many of our products are wrinkle resistance and machine washable and made from different blends of cotton, preshrunk cotton, polyester, spandex and softshell fabrics.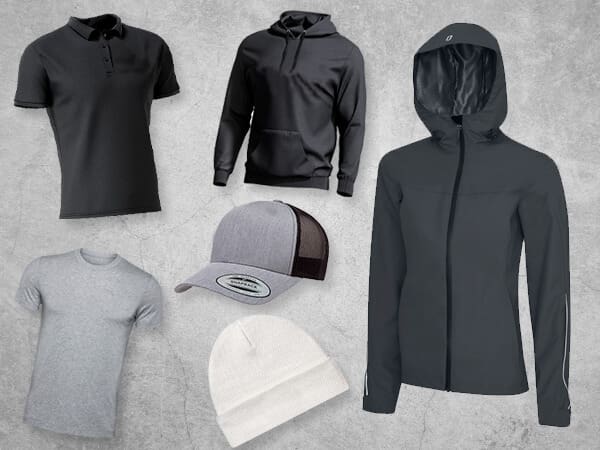 As a promotional products organization we feature various products that are specifically used for corporate events or for advertising reasons. Such products include: specialty gift sets, awards, displays, signage, table throws, banners, lapel pins, buttons and magnets. All items in the Drive Sportswear product library may be customized and branded with your logo. This leaves over 40,000 products available for customization at the discretion of the client. 
A popular item of ours is drinkware, and when it comes to drink wear we have customization available from the style to the color and the placement of the logo. The most common styles offered are water bottles, tumblers, mugs, insulated drinkware, ceramics, wine and spirt accessories and straws. Although this list covers some of our drinkware options, there are many others listed within the Drive Sportswear product library for clients to browse.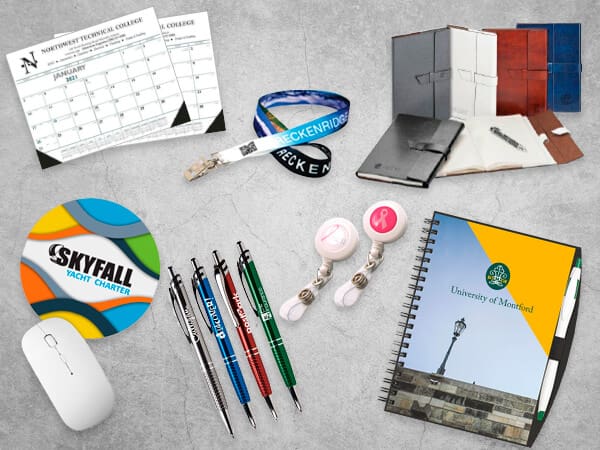 Pens are one of our most popular products for offices and workplaces, but we offer other products that can all be explored within the Drive Sportswear product library. Such additional office and workspace products include: stationary, portfolios, calendars, journals and planners, lanyards and name badges, stress relievers and various styles of backpacks and bags. Promotional products are designed to encourage brand awareness within workplaces; brand your office with your business through Drive Sportswear.
Drive Sportswear understands the importance of prioritizing safety in the workplace. Our product library contains an entire section dedicated to construction approved safety gear and personal protective equipment to keep workers and employees safe at work. Such products include: sterilized masks, sanitizer, reflective vests, reflective long and short sleeve shirts, Hi Vis jackets, construction grade hard hats, work gloves, safety googles and Hi Vis overalls. 
At Drive Sportswear, we take sustainability seriously and continuously suggest alternative product options that are more sustainable to clients when creating a proposal. Such products include: ethically sourced apparel and headgear, reusable straws, reusable shopping bags, recycled notebooks, reusable traveler cups, recycled pens and lunch bags and lunch boxes. Sustainable products are the way of the future which is why we are devoted to expanding our sustainable products catalogue daily. 
The products offered at Drive Sportswear are not limited to only apparel and promotional gear, we also carry products that fall into the umbrella category of tech. Such products include: computer carrying bags, UV phone sanitizers, wireless charging pads, USB drives, headphones, Bluetooth speakers and even security cam covers. All tech gear can be fully customized with your companies branding.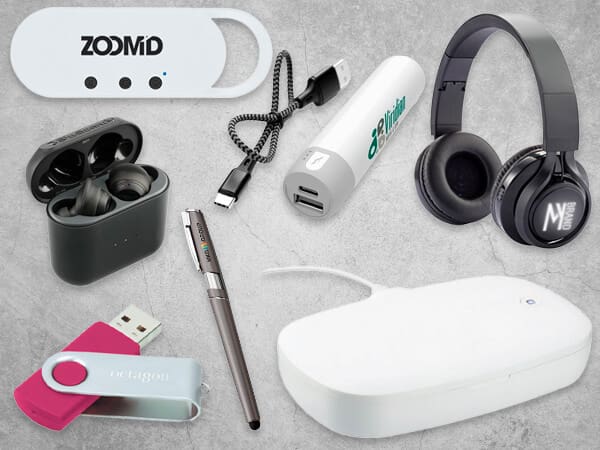 Download our Printable Catalogue
Products available are not limited to our catalogue! Feel free to contact us if you didn't find what you were looking for.
Download PDF